by Tom Carley
My Monday started as few others had in the 45 prior Novembers of my life. Snow had fallen overnight and the temperature dipped below 15 degrees. Old Man Winter chose this weekend to make his annual appearance in the Midwestern town I call home. The usually uneventful trip to the office turned into a white-knuckled journey where I hoped my car did not join the others lining the ditches along the snow-covered interstate.
Once I got out of a morning meeting, I returned to my office knowing this day would be different. The empty offices and desks on my floor demonstrated how unproductive the day could be with the absence of support staff and researchers. I caught myself being lulled into a state of complacency and then I checked my inbox.
Scattered among the usual messages, advertising products I will not purchase or services that my company does not need, I found an e-mail that caught my eye. It was a picture of a horse on its hind legs playing in a snow-covered pasture. The horse looked familiar. I looked closer at the markings and saw that it was Blame. That Blame. The one that stared down Zenyatta and defeated her as no other horse had in her 20 plus races.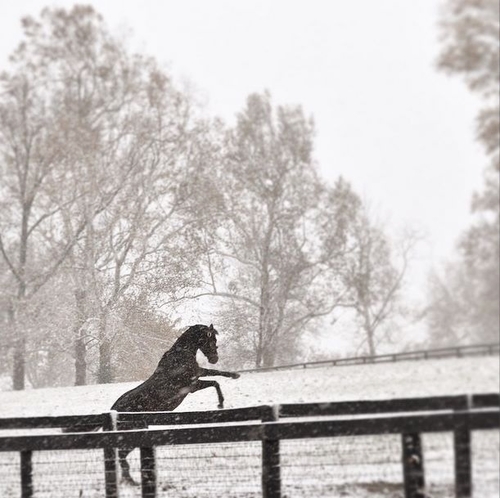 The picture (which is shown above) was a simple snapshot taken by an amateur photographer. It was not a staged shot or professionally done. However, this picture did more for me on this day than the finest work of Ansell Adams. As I sat there and looked at the picture, I could feel the cold breeze blowing across the pasture. I could hear the whistle of a winter wind and the knicker of a past champion who was simply enjoying the day. Horses love the cold weather and the first snow is always a sight as you see them walking cautiously, but then soon rolling among the white powder that covers the ground.
I leaned back in my chair and I literally could feel my pace slowing. No longer did that To-Do list look so daunting. No longer did I feel confined to the electric jungle in which I spend 50 hours a week. For those brief moments, I was a child again, running on an open range, breaking open lakes so lower-level claiming horses could drink. When I was a teenager I felt anger and singled out because my parents "made" me work with horses in the open air. As I have become a man, I now realize those were some of the best days of my life. Not only did I get to enjoy fresh air, but I also developed a work ethic that has helped me later in life.
My Father once told me that you do not realize the benefits of the lesson that you learn today for many years. I never believed that until I looked at that picture and plowed forward and made a dreary-day productive, thinking back to my days on the farm.