Everyone thinks they have it so tough. But if we would actually take a moment to look at those around us and the challenges they have to overcome, we would see that we do not have it so bad. Racing owner Stephen Sinatra's granddaughter Cecilia is one of those who has it much tougher than most. But Cecilia never gives up, and neither did the horse named after her. Equine miracles are possible when love and energy between man and animal are exchanged.
The following is an almost unbelievable story of what happened when a horse named after a little girl received the natural care that only a grandfather could provide. The smile on Cecilia's face in the winner's circle was bright enough to light a city. It was the first time that almost 10-year-old Cecilia had been able to watch her namesake compete at the track. Considering that Run for Cecila was being powered by the spirit transmitted to her by the little girl she was named after, the other horses did not stand a chance that day. But no one realized that at the outset. It had taken years to get to this Godsend of a day.
Dr. Stephen Sinatra is a doctor who has written several books on medicine. He also has been an owner and a breeder, breeding Grade II winner and Kentucky Derby entrant Desert Party among other successful horses. He has researched equine nutraceuticals and has conducted double blind studies to find ways to treat inflammation and bleeding without medication. His granddaughter Cecelia suffers from a rare neurological condition (affecting one in every 400,000 people) that makes it very difficult for her to use her legs. Walking has become so difficult that she now relies on her wheelchair when walking more than short distances.
Instead of being angry and wondering "why me?" little Cecilia is thankful for what she does have. Her uplifting spirit was magnified one-thousand fold in the winner's circle recently at Suffolk Downs as the picture of a lifetime was taken.
This story begins three years ago when Sinatra consulted his breeding partner and bloodstock consultant David Smith as to which one of his horses had the best breeding. Cecilia had once actually asked her grandfather to name a dog after her. When he said he would name a horse for her instead, she practically jumped for joy. Sinatra planned to keep that promise.
He explained to Smith that his granddaughter had recently begun to demonstrate the effects of a neurological condition. Nonetheless, cheerful Cecilia was a motivator, oftentimes reassuring others about her deteriorating issues with walking and balance. In fact a few years back, then 6-year-old Cecilia calmly reported, "I can't run, and I can't skip, but it's okay Grandma."
The teachers at her all-girl Catholic school and the dance classes that she would eventually have to give up were all inspired. Her physical therapy team–which administers hippotherapy weekly–continually report admiration for her attitude as well. For example, picture Cecilia's mother and grandmother with tear-filled eyes as they watched her final dance recital. Meanwhile, Cecilia reveled in her on-stage seated position while the other girls danced around her. The little girl beamed with delight that she was "the star" that her teacher had told her she would be that Saturday. As her dad would say that afternoon, "Why are you crying? She's having a ball!"
This brave and enduring little girl had shown a love for horses at an early age while watching the movie "Dreamer" about a little girl who loves and cares for a busted-up horse. At the time, Cecilia was sitting on the couch with a fractured leg of her own. When the grand finale race scene occurred in the movie, Jan witnessed her casted granddaughter jumping up and down, excitedly proclaiming, "We won! We won!" Cecilia's grandmother tried to calm her jubilant grandchild so she wouldn't tumble off the sofa; to the then 4-year-old Cecilia, the story was real life. But, wins like that usually happen only in the movies, right?
With the guidance of David Smith, the Sinatras finally selected a half-sister to multiple Grade I winner Subordination by Awesome Again a few years later. They named the horse Run for Cecila and reassured their little girl not to worry: the horse would run for her. Cecelia was so delighted that she didn't even care that the Jockey Club got the wrong info, and would spell the filly's name Cecila.
But as the equine Cecila began training at two, it soon became obvious that something just was not right. Cecelia's namesake was not pushing off of her back legs. At first, it was believed that she suffered from shin splints. However, this was soon dismissed. Many experts looked at the horse, but none could determine what was afflicting her. The Florida trainer Sinatra employed at the time wanted to pin fire the young horse. Sinatra passed on the pin firing idea and sought other possible solutions, including a more precise diagnosis.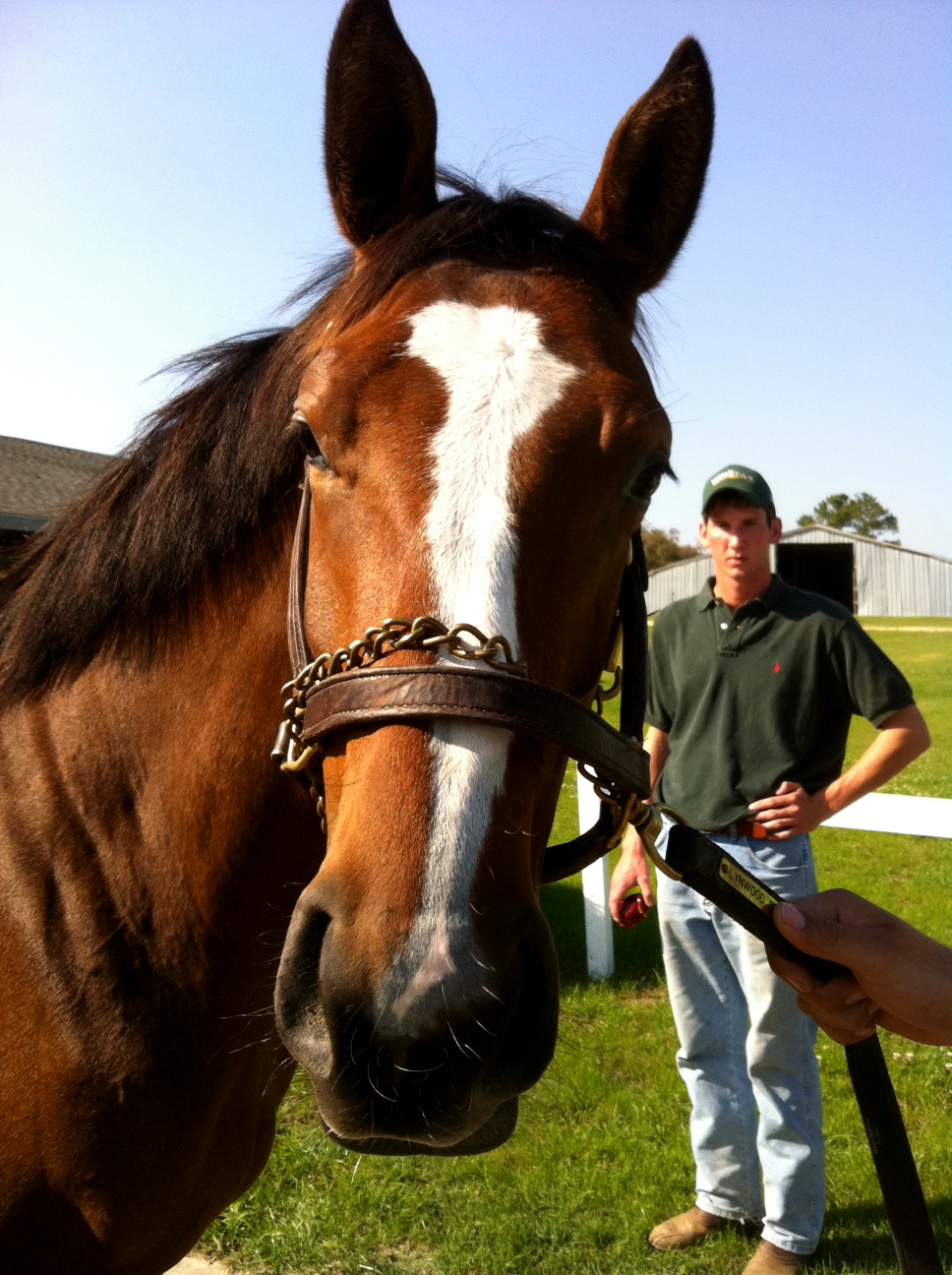 It was eventually discovered that the horse suffered from neurological problems — just like her namesake — and it was affecting her ability to bear weight on her back legs. At this point, neither the horse nor the child were able to run. It was both perplexing and heartbreaking. So, Sinatra, Smith and Corby Caiazzo — farm manager and trainer at Berkeley Training Center in Darlington, Maryland — went to Florida's Gulfstream Park to see the filly and determine possible treatments for her condition.
After a dismal attempt at Monomouth Park, the horse was taken out of training and spent the next eight months healing under Caiazzo's watchful gaze. Sinatra started to give the horse the equine supplements he had developed to reduce inflammation, and then came across an article about tocotrienols reversing neurological disease in the equine. He contacted the people in Asia who manufactured the product, and was told the vitamin was also successful in healing other animals, including dogs recovering from strokes. He ordered three quarts to be shipped from Asia and a tablespoon of this (1,000 times the power of traditional Vitamin E) was given to the filly each day. The horse responded to the treatment to the point of being able to jog, and then breeze. Eventually, Caiazzo had Run for Cecila strong enough to be able to return to the racetrack.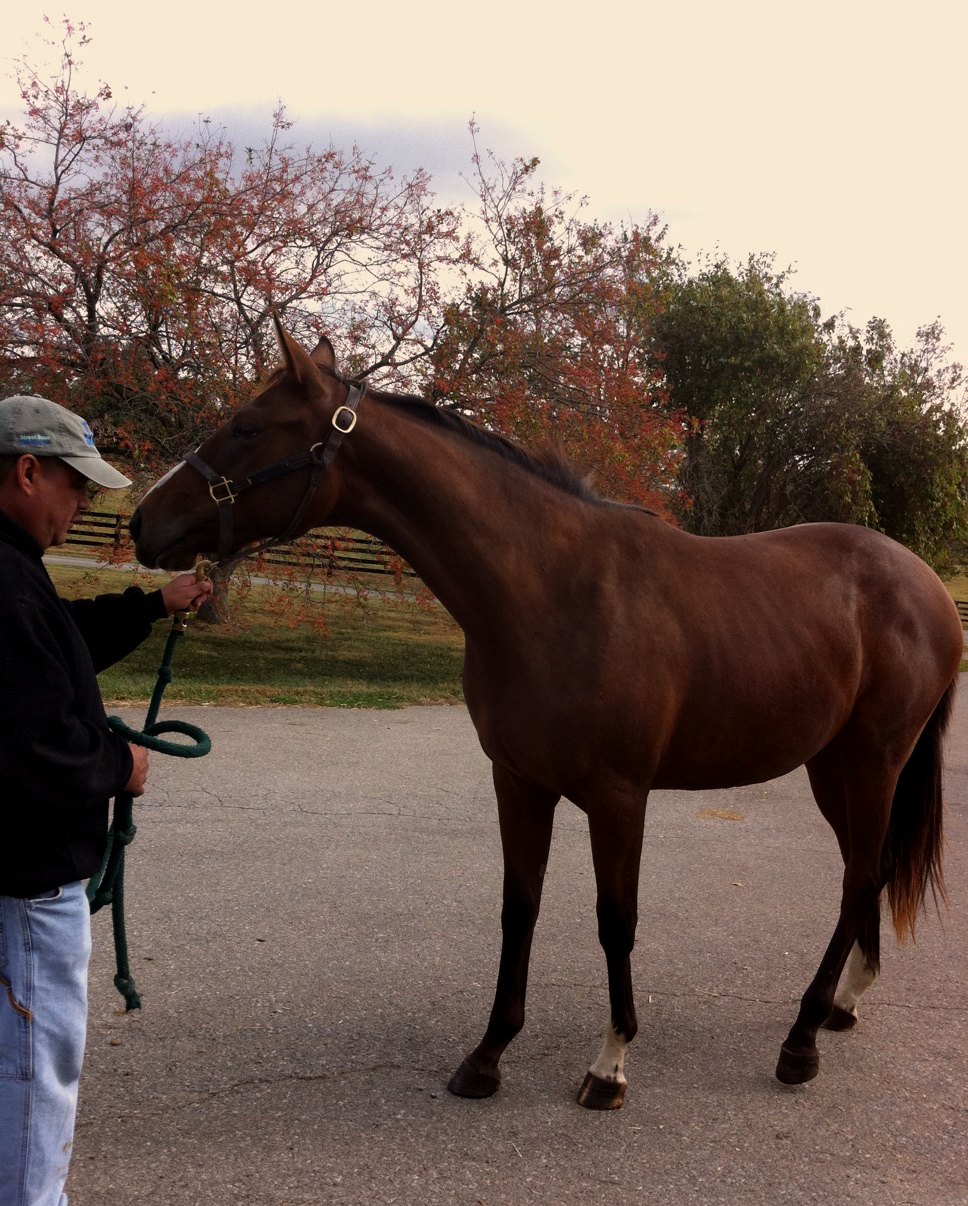 Meanwhile, the human Cecelia was undergoing therapy as well. The horse she had not yet met was never far out of her mind. Her grandmother texted and emailed photos. Cecelia kept a picture of the horse on her dresser. Her parents gave her the supplement program designed for her by her grandfather, who added tocotrienols after reviewing the research. Cecelia began undergoing equine therapy where she rode on the back of an older horse, and continued in physical therapy weekly. When one of her doctors commended her hippotherapy, she objected, "But I want to ride my own horse."
In her very first race on the dirt at Gulfstream, the filly lost by 24 1/4 lengths. She tried next at Monmouth, losing by 28 1/4 lengths. After approximately 11 months off, with more TLC, acupuncture, the Thorpe Institute Equiscope, and massage, along with Sinatra's equine supplements, including larger doses of tocotrienols, the filly returned at Parx with another dismal defeat: last beaten 17 1/2 lengths. She was switched to the turf was well-beaten at Atlantic City, then Delaware, then Colonial and again at Parx. It seemed Sinatra's only hope was relegating his non-winning filly to the role of broodmare and that his dream of seeing his granddaughter witness the horse named after her win like Dreamer would never be fulfilled.
But Philadelphia-based trainer Ned Allard had one more prospect before they gave up. He suggested that Suffolk Downs might be the place for Cecila to finally prove herself and break her maiden. So, Sinatra contacted another trainer he knew who had a barn up at Suffolk. Bill Sienkewicz listened carefully. He agreed with Sinatra to give the filly one more try. Sienkiewicz and Allard had a long history of collaboration, and so the plan was hatched. Run for Cecila was shipped for one more round of training — and a few more weeks of her supplements — to face a field she might have a chance to compete against.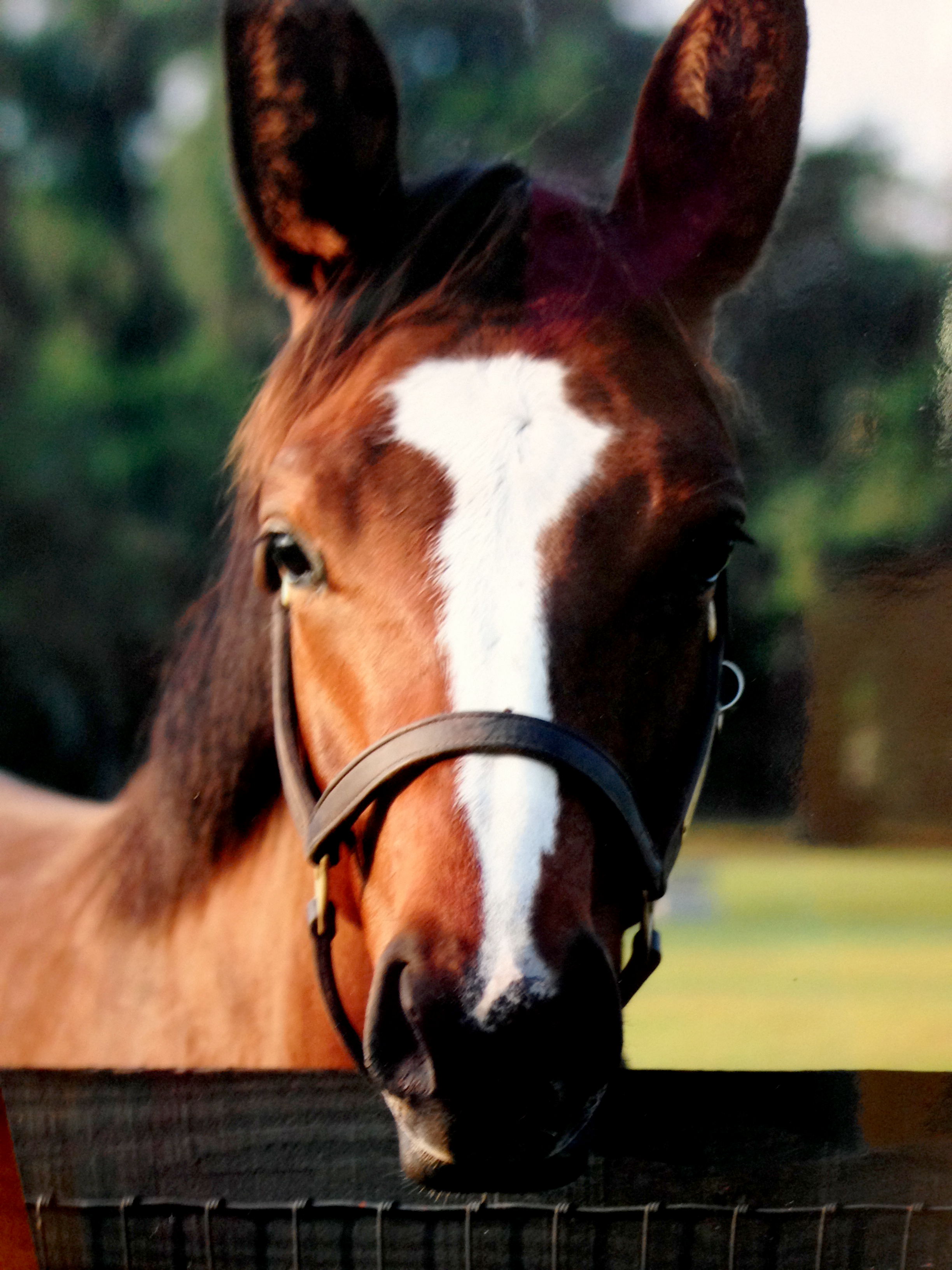 After three weeks of training with the Sienkewicz barn, the horse was ready, but her trainer couldn't seem to find the right spot. The correct races just wouldn't fill. Then, Run for Cecila finally got her shot July 27, running against the boys. Sinatra was not very hopeful, but since the race was close to his Connecticut home, he decided to ask his Rhode Island-based granddaughter to go to the racetrack to finally meet the horse named after her–and watch her run. The horse and the girl had always been too many miles apart to meet before.
Sinatra called ahead to make sure that a child in a wheelchair could attend the races and would be able to view the track, etc. The granddaughter's family had scheduling conflicts that almost prevented them from being at the racetrack that day. Cecelia's father even got a speeding ticket en route to making sure his daughter saw her horse run. Parents and child arrived about an hour before the post time for the 7th race. Cecelia rode the elevator to the dining area above the paddock and told her grandmother how happy she was to be there. The usual chatterbox Cecelia was soon so overwhelmed with all that was going on that she grew quiet, taking in her first experience of the racetrack.
Originally scheduled for turf, rain had forced the maiden special weight to a mile on the main track. While she would benefit from scratches by several of her competiros, this also meant that Run for Cecila would have to return the surface over which she had never run within 17 1/2 lengths of a winner. These factors did not offer much hope for a win that day.
Since trainer Sienkewicz had another entrant in the race, Sinatra spoke to the jockey himself in the paddock before the race. After he had described Run for Cecila's past races, jockey Tammy Piermarini commented, "This horse appears to be a pack horse." That made sense. The filly especially loved other horses in the barn, even peeking through the wood slats just to watch them. "You run your race," Sinatra told the rider. He also told Piermarini about the granddaughter he'd named Run for Cecila for. Sinatra pointed to the glassed-in section above the saddling area and the jockey looked up to see the little girl in the bright yellow wheelchair. The jockey waved from her mount. Cecelia loved that her horse had a female jockey. Piermarini was a mother of three and understood how special the day was for young Cecelia. Surely, her intention as well helped shift the filly's that day.
While the horses warmed up on the racetrack, Sienkewicz's friend Josie helped Jan to rush the little girl, her family, and her brightly colored, but cumbersome wheelchair through the crowd, on and off of the elevator, and down to the rail to meet up with Sinatra. "No problem," proclaimed Josie about her gallant efforts. "I work at a hospital. And this is what racing is really all about!"
The stars were starting to align for a little girl that day.
Finally, Cecelia would meet the horse named after her and watch her run. A lady on the rail with her children heard Cecelia exclaim to Jan, "Grandma, there is my horse!" The lady asked Jan if the horse was indeed Cecelia's. The proud grandmother confirmed that it was. The lady gathered up her girls and ran to the window to buy parimutuel tickets before the race started. Run for Cecila was the last horse loaded and as she was led into the gate, her jockey brought her toward the rail, allowing Cecelia to come face-to-face with her filly. The jockey looked at the girl sitting on the rail and waved again as the entire family waved back and wished her luck.
The race started and Run for Cecila was forced five wide into the first turn. Sinatra just hoped the horse would not be embarrassed in front of Cecelia and her parents. The filly was the 10 horse, but the family couldn't see her number on the board. Things were looking dim. But then, at the eighth pole, the 5-2 shot took over. She faced two challengers nearing the line, but Run for Cecila lunged forward at the wire to score by a neck. Sienkewicz's other entrant, C F's Bullet, was second.
The emotion that followed can't be described in words. The horse that had never run well before overcame a return to dirt, facing the boys and a wide trip to win. Finally, the filly "got it" that the race track wasn't about just running out there with her friends. It was about winning for a little girl. It was as if she was empowered by the spirit of the little girl that she was named after. Cecelia was jumping in her wheelchair as everyone else leapt in the air, screamed for joy, cried for joy, and congratulated the little girl on her win. Even their new lady-friend on the rail and her little girls ran over to congratulate and hug them!
As Dr. Sinatra quickly wheeled Cecelia toward the nearby winner's circle, the track attendant stood firm that no wheelchairs were allowed inside. So, Cecelia's father quickly picked her up. There was no way his little girl was going to miss getting her picture taken with the horse that on that special Saturday ran for the little girl who can't. The family shared the picture of a lifetime. As far as the Sinatra's were concerned, it was better than realizing their fantasy of winning the Kentucky Derby!
Meanwhile, Sinatra's cell phone kept going off. Friends who knew the horse's story shared in the joy from across the many miles. They were all in tears–Sinatra's partner Bill Niarakis, David Smith, his trainers, his farm owners, family and friends. They had all found a place to watch the race from their various vantage points that day. They'd all seen the filly meet the little girl at the rail. All agreed that it was nothing short of a miracle. Both Cecelias were queens for the day.
As the Sinatras watched the replay on a monitor inside, the owner-breeder excitedly pointed out the great ride to his trainer. A man nearby looked over at the group as he heard Sinatra speak of the great job Piermarini did riding their horse and said, "That's my wife!" Sienkewicz turned, smiled and introduced Sinatra to Piermarini's husband, who also serves as her agent. Owner and trainer thanked the man and all shared in the day's amazing events. More tears were shed.
Both a horse and a girl suffer from neurological problems. The doctor who named the horse after his granddaughter discovered a supplement that allowed the horse to run as she had never been able to before. Did Dr. Sinatra discover a supplement that may help his granddaughter as well? Only time will answer this question, but in today's world of quick fixes, this story shows the healing power of love, determination, and a positive spirit. Few of us have a more positive spirit than a young lady named Cecilia.
Do you believe in miracles? Dr. Sinatra sure does. He believes his relentless search to fix Run for Cecila led to a miracle seen on the racetrack at Suffolk. In his heart, he is praying for an even bigger miracle. He knows in his heart that someday he may see Cecilia running on the playground and even beating the boys, just like her namesake.
Below are three links to various equine publications that featured the story of Run for CC:
Horse Races Now: http://www.horseracesnow.com/the-racing-hub-filly-runs-for-a-little-girl-who-cant/
Bloodhorse: http://cs.bloodhorse.com/blogs/racinghub/archive/2013/08/20/filly-runs-for-a-little-girl-who-can-t.aspx

Thoroughbred Daily News: http://thetdnblog.blogspot.com/2013/08/guest-post-filly-runs-for-little-girl.html