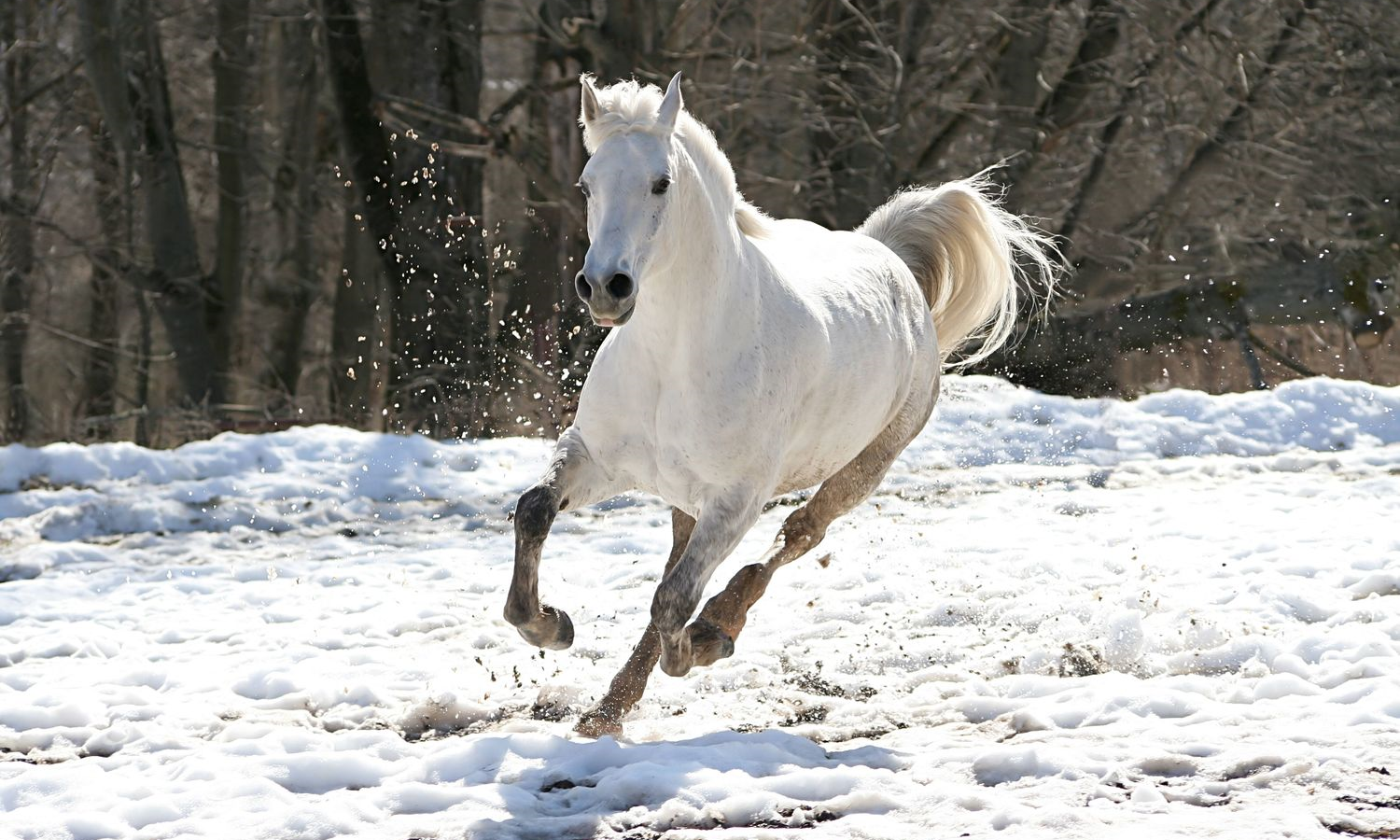 by Tom Carley
---
This week's edition of BABYTALK was motivated by the arctic cold front that gripped the Eastern two-thirds of the United States. Horses, just like people, handle cold differently than the next horse. While you might not think of cold when you think of the first Saturday in May, the winter weather definitely has a role in what will happen next May.
This week's FEATURED FOUR will focus on the weather and its effect on horses.
STAYING IN A COLD CLIMATE FOR THE WINTER MIGHT NOT BE ALL BAD. While the larger trainers ship most of their "A" horses to Florida, Louisiana, or Hot Springs, there just might be an advantage to staying home in a cold climate such as New York, Kentucky or Chicago. Trainers and horses usually lose days of training because of cold weather, frozen racetracks, and overall poor training conditions. At first glance, one would think of this as a disadvantage. However, I gave this some thought; and as I have had to cancel some workouts over the last week, I noticed that my shin splints felt much better. I wonder if the same is true for horses. These animals are still developing and the occasional extra time off mixed intermittently within a training schedule could prove beneficial as the horse stretches out around 2 turns. Horses rarely miss more than 2 days in a row of training due to weather; and this short amount of time will not affect stamina, but the extra rest sure can help healing and future development.
MOST RECENT KENTUCKY DERBY WINNERS HAVE WINTERED IN A WARM CLIMATE. I reviewed the recent Kentucky Derby winners. Almost all of the last 15 Kentucky Derby winners have done their training in a warm climate over the winter. Last year's winner, California Chrome, wintered in, you guessed it, California. I do not know what to make of this fact as most of the recent Derby winners were from larger operations that have wintered in warmer climates. Also keep in mind that more Derby prep races are run in the Southern and Western parts of the country until March. This means that horses that wanting to train on racetracks where the preps are run, by default, will have to be stabled in the warmer climate.
An interesting variable to this school of thought is Oaklawn Park in Hot Springs, Arkansas. The track, due to its four- race prep program for 3-year-olds, is very popular with trainers and has produced Derby winners such as Smarty Jones. Oaklawn is considered by many to be a warm weather track. However, the first two and a half months of the year in Hot Springs more resemble Kentucky than Florida. Horses that have run their prep races at Oaklawn have done very well in the Triple Crown races. Therefore, the theory that a Derby winner must prep in a warmer climate is tested by the positive results of Oaklawn horses in Triple Crown races.
A KEY MIGHT BE SURFACE, NOT CLIMATE Racetracks used to be made only of dirt. The reason that tracks began to install the polytracks was not safety issues, but to avoid losing days to winter weather as the polytracks do not freeze. As racetracks began to have fewer days lost to weather, the polytracks became popular in climates that are susceptible to cold weather. Horses use different muscles when they run on a polytrack compared to a traditional dirt track. How does this effect a horse's development? While I do not know this answer, I do believe that the surface that a horse trains on can be more important than the climate in which the horse trains. Horses push from their hips. If horses "glide" across the polytrack, they are not developing their hips to the extent a horse does that trains on dirt. When a horse then competes on dirt after training on polytrack, they, in theory, would be at a disadvantage due to the lack of development of the hip muscles that allows them to surge toward the wire.
The above ideas, while not being enough to solely base a handicapping decision on, should be kept in mind as you look at Derby prep races. Remember, it is the little things that add up to determine if a major decision is profitable or not. Hopefully, these columns will point you in the direction of a profitable decision somewhere along the Derby Trail that makes you keep coming back to this great sport.