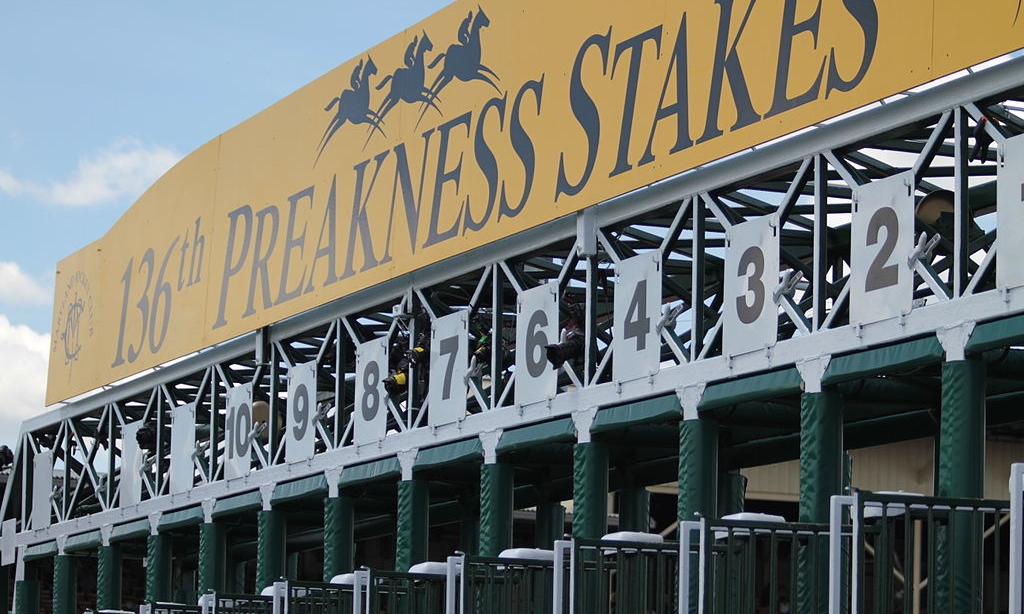 by Tom Carley
---
The KENTUCKY DERBY has now given way to the PREAKNESS. This race will not have a 20- horse field, but nonetheless should be quite interesting. Since we already know most of the players, I want to look at a few race trends that I have picked up over the years.
I. LOOK FOR HORSES THAT RAN IN THE DERBY
In the 2014 BELMONT STAKES, the connections for California Chorme complained about horses skipping the KENTUCKY DERBY and PREAKNESS that then arrived fresh and rested to compete in the third leg of the Triple Crown. An unfair advantage was suggested. So far, there has little-to-no proven benefit for PREAKNESS horses that skipped the KENTUCKY DERBY. You have to go back to Bernadini in 2008 to find a horse opting out of the KENTUCKY DERBY to go on to win the PREAKNESS. The exception is Rachel Alexandra, but she did win the KENTUCKY OAKS. The Derby winner has usually done quite well in the Second Jewel of the Triple Crown. Place particular focus on those horses that ran well in the KENTUCKY DERBY.
II. TIGHTER TURNS, BUT LESS TRAFFIC TROUBLE
The turns at Pimlico are actually much narrower and tighter than the Churchill Downs layout. However, when you take into consideration that about half as many horses will run Saturday as compared to the KENTUCKY DERBY, those turns are never as much a factor as the media makes them out to be. You do not have to shy away from a horse that is a deep closer. History has shown us that horses can run well from off the pace in the PREAKNESS. This could play against American Pharoah. I think a horse that will benefit from this greatly is Danzig Moon. He had a troubled trip in the KENTUCKY DERBY.
III. TWO WEEK FACTOR
Never before have these three-year-old horses been asked run on only two weeks rest. Remember, the KENTUCKY DERBY required these thoroughbreds to run farther than they ever had. Their connections have known since the day after the Derby that they had to run another taxing race in 13 days. Most race horses will work once and gallop the rest of the time. Racing equines typically take longer than two weeks to recover from such an effort. Look in the paddock at horses that might have dropped some weight or might be as shiny in color as they did in Louisville. Many trainers like to run their horses less often than twice the two week break between the First and Second Jewels of the Triple Crown. Todd Pletcher comes to mind and after he announced that he was running no horses this Saturday. I realized he likes to run his horses about once every five weeks. Horses that were lightly raced in the Derby Trail – such as American Pharoah and Firing Line – might find it tough to turn around with only two weeks rest.
IV. MARYLAND FANS LOVE THE DERBY WINNER
This is not a gambling column. However, if you are going to wager a few dollars, then remember this fact. The KENTUCKY DERBY winner is usually tremendously over bet in the PREAKNESS. While this race does not attract the viewership of the Derby — and "Maryland, Oh Maryland" will never be confused for "My Old Kentucky Home" — there are many who bet the PREAKNESS as one of five or so races they wager each year. Those people have not read BABYTALK and they will gravitate toward the Derby winner. Don't be afraid to pick out three horses that you like for reasons you might have picked up in this column, that are not named American Pharoah. When you consider the Derby winner will go off at odds of 3;5, you could get a much better return playing three other horses to win, knowing that if you cash any one of those tickets that you will earn a better return than settling on the favorite.
This article uses images from the Wikipedia article "2013 Preakness Stakes", which is released under the Creative Commons Attribution-Share-Alike License 3.0.